RS Stock No.:

284-804

Mfr. Part No.:

CP1.0-31-08L

Manufacturer:
View all Peltier Modules
---
49 In Global stock for delivery within 6 working
day(s)
999950 In Global stock for delivery within 3 working
day(s)
Price (VAT excluded) Each
| | |
| --- | --- |
| units | Per unit |
| 1 - 99 | TWD2,537.00 |
| 100 - 249 | TWD2,435.00 |
| 250 - 499 | TWD2,334.00 |
| 500 + | TWD2,283.00 |
RS Stock No.:

284-804

Mfr. Part No.:

CP1.0-31-08L

Manufacturer:
Product overview and Technical data sheets
---
Legislation and Compliance
---
Product Details
Thermoelectric Modules, Laird Technologies
From Global Component Sourcing, these heat pumps utilise the Peltier Effect to remove heat from the application. They are particularly suited for use within applications where space or access is limited. Peltier effect heat pumps are also highly cost effective when compared to conventional cooling solutions.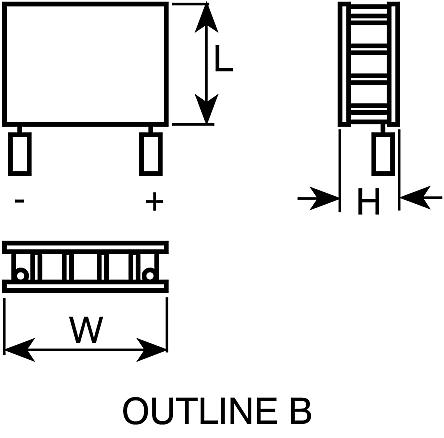 For products that are Customized and under Non-cancellable & Non-returnable, Sales & Conditions apply.


Thermoelectric Modules - Peltier Effect


A range of semiconductor thermoelectric devices working on the Peltier effect. When supplied with a suitable electric current, they can either cool or heat. When subject to an externally applied temperature gradient these devices will generate a small amount of electrical power.The larger devices can be used for cooling or controlling the temperature of sub-assemblies. The small size of the mini module makes it ideally suited for cooling miniature electronic components such as infra-red detector chips, microwave IC's, fibre-optic lasers and detectors.,Alternatively, it may be used to minimise the effects of temperature coefficients on oscillator stability, reference voltages, amplifier offsets etc. by providing temperature control.


Solid-state long term stability
Generates no acoustic noise
---
Specifications
| | |
| --- | --- |
| Attribute | Value |
| Maximum Cooling Capacity | 5.8W |
| Maximum Temperature Difference | +75°C |
| Maximum Current | 2.5A |
| Maximum Voltage | 4V dc |
| Active Area | 15 x 15mm |
| Active Area Length | 15mm |
| Active Area Thickness | 4mm |
| Active Area Width | 15mm |