Honeywell GLA Series Adjustable Roller Lever Limit Switch, NO/NC, IP67, SPDT, Die Cast Zinc Housing, 600V ac Max, 6A Max
RS Stock No.:

311-2415

Mfr. Part No.:

GLAB01A2B

Manufacturer:

View all Limit Switches
---
100 In stock for delivery within 6 working days
Price (VAT excluded) Each
| | |
| --- | --- |
| units | Per unit |
| 1 + | TWD5,195.00 |
RS Stock No.:

311-2415

Mfr. Part No.:

GLAB01A2B

Manufacturer:
COO (Country of Origin):

GB
Product overview and Technical data sheets
---
Legislation and Compliance
COO (Country of Origin):

GB
---
Product Details
Honeywell GLA Series Limit Switches
The GLA series of limit switches belongs to part of the wider GLS range of general purpose limit switches from Honeywell. The GLA Series is a non-plug in solution with a rugged metal construction. These limit switches been designed for worldwide applications and meets the global EN 50041 standard for switch mounting centres.
Features:
• Both normally closed (NC) snap actions contacts and normally open (NO) slow action contacts are positive opening.
• An analog output is available with models featuring a side rotary actuator.
• Operating temperature between -40 °C and +85 °C.
• Able to withstand some washdowns, shock and vibration.
• Models with single pole double throw (SPDT) and two pole single throw (2NC and 2NO) contact blocks are galvanically isolated. With double pole double throw (DPDT) contact blocks, each pole is galvanically isolated.
• GLA limit switches feature bifurcated contacts.
Benefits:
• GLA limit switches have a modular design. The bodies, actuators and contact blocks can easily be adjusted, allowing you to customise the unit to suit your application. The models are available with different conduit options enabling them to be used for global applications.
• These limit switches are incredibly easy to install and maintain.
• GLA limit switches are rugged and can be used indoors or outdoors. They are constructed from die-cast electrostatic epoxy coated zinc.
• You can have full confidence that these limit switches are a robust option. They are suitable for repeated use, with a mechanical lifespan of up to 15 million operations.
Product Applications:
Suitable applications for GLA limit switches include:
• Aerial lifts and boom lifts
• Assembly lines, conveyors, cranes, elevators and hoists
• Construction equipment and machinery, including vehicles and lift trucks
• Material handling and machining tools
• Textile machinery
• Packaging equipment
• Transportation hubs
• Valves
• Railroad signalling equipment and locomotives
• Apertures and doors
Can I buy spare or replacement parts?
Yes, all of the levers that make up side rotary assemblies can be purchased as replacement parts. All switch heads that meet standard EN 50041 can be removed and replaced.
Standards
IEC/EN 60947-5-1
While IEC/EN 609747-1 covers general rules relating to low voltage switchgear and controlgear, IEC/EN 60947-5-1 specifically relates to control circuit devices and switching elements. The standard monitors the characteristics of devices, the electrical and mechanical requirements and the functional requirements.

EN50047
GLC and GLD limit switches are constructed from housing that meets EN50047. EN50047 applies to position switches with an automatic return actuator. Models that meet EN50047 feature standardised characteristics and dimensions (30.5 x 31.1 x 68 mm).

IP 66
A rating of IP 66 ensures that the limit switch units are protected against dust and low-pressure jets of water.

Sealed to NEMA 1, 4, 12, 13
NEMA 1 states that enclosures can be used indoor and offers a degree of protection against contact with the equipment enclosed.
NEMA 4 states that enclosures can be used either indoor or outdoor and provide protection against windblown rain and dust, hose directed water and splashing water.
NEMA 12 states that enclosures are intended for use indoors and offer some protection from dust, dirt, falling dirt and dripping non-corrosive liquids.
NEMA 13 states that enclosures are used indoors and offer a level of protection from oil, non-corrosive coolants, spraying water and dust.
Approvals
UL, CSA, CE, CCC
Warning
GLA limit switches have not been designed as emergency stop or safety devices. They must not be used in applications where personal injury could occur as a result of the products failing.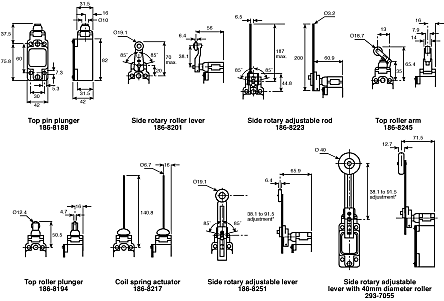 GLAB01A2B Limit Switch
Model GLAB01A2B is a single pole, double throw (SPDT) snap action limit switch. It features one normally open (NO) and one normally closed (NC) contact.

This limit switch has an adjustable side rotary actuator (38 mm to 93 mm) with a 19 x 6 mm steel roller.

GLAB01A2B has a PG 13.5 conduit, ensuring that it is suitable for European type cables.

Fitted with silver contacts as standard, this model is perfect for your power switching applications.
Approvals
UL; CSA
Approvals
UL/ UL listed for Canada
---
Specifications
| | |
| --- | --- |
| Attribute | Value |
| Actuator Type | Adjustable Roller Lever |
| Pole and Throw Configuration | SPDT |
| Normal State Configuration | NO/NC |
| IP Rating | IP67 |
| Maximum Current | 6A |
| Housing Material | Die Cast Zinc |
| Maximum AC Voltage | 600V |
| Maximum DC Voltage | 250V |
| Connection Type | PG13.5 |
| Series | GLA |
| Action Type | Snap Action |
| Length | 145.8mm |
| Minimum Operating Temperature | -25°C |
| Depth | 42mm |
| Width | 42mm |
| Maximum Operating Temperature | +85°C |
| Mechanical Life | 15000000Çevrimler |