Everything You Need To Know About Wall Boxes | RS Components
In this guide, we'll cover what wall boxes are, their uses as well as giving a brief overview of the different types and materials available. To help you look out for the right things when buying a wall-mounted enclosure to makes sure it's suitable for the task and environment.

What are wall boxes?
---
A 'wall box' is a term often used in place of the slightly more descriptive 'wall-mounted enclosure', meaning any secure cabinet that's intended to be affixed to an indoor or outdoor wall. They're chiefly designed to house various types of components or equipment, and to provide easy access to those components through a panel door, which is very often fully lockable.

Among the many types of equipment you might find behind the door(s) of a typical wall-mounted enclosure are:
Potentially hazardous items and components
For secure outdoor or indoor storage, the majority of wall boxes are lockable - this generally allows for the safe storage of any important items
Sensitive or delicate equipment and systems likely to be exposed to moisture, dirt, or other environmental hazards
IP-rated wall boxes are especially commonplace in marine environments, or in busy industrial areas where hosedown capability is advantageous
Electrical components
This frequently includes important or potentially hazardous systems such as fuse boxes of power inlets
With a wide range of IP ratings available, wall-mounted enclosures are generally suitable for both outdoor and indoor use, and are offered in an extensive range of sizes and configurations. This means that there's almost always a model available to suit your precise needs in terms of installation space and safety requirements.
Most wall-mounted enclosures are constructed from sturdy and robust materials such as stainless steel, ABS or thermoplastic, and can withstand high impacts as well as a range of challenging conditions. As a result, wall boxes tend to be built to provide a reliable level of security, both for safety reasons and to prevent accidental or unauthorised tampering/removal.
For applications where physical resilience is less of a concern, many types of wall-mounted enclosures also come in variants that have transparent doors, allowing for convenient visual identification of the box contents.
Some of the most commonly requested wall box types among customers today include: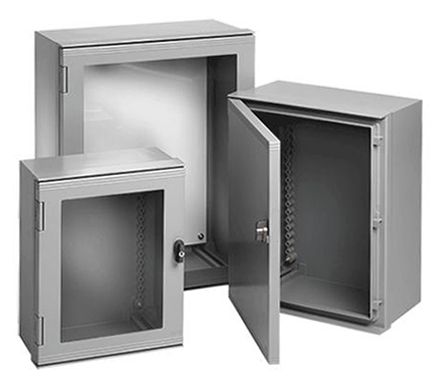 Weatherproof electrical enclosures
Vented wall-mount enclosures
IP-rated electrical enclosures
Metal enclosures for electronics
Wall boxes with transparent doors
Stainless steel electrical wall boxes
Wall-mount data enclosures
Electrical plastic enclosures
Fibreglass wall boxes
Locking wall boxes
Wall-mounting enclosures are increasingly being used in many environments to provide the double function of saving space and protecting components at the same time. To this end, several types of accessories and fittings are available to make the job of installation easier, including a broad choice of wall box mounting rails and plates, brackets and screws.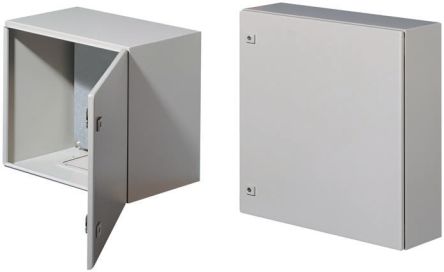 What are wall boxes used for?
---
Whether you're talking about domestic or industrial, electrical or weatherproof, the chief purpose of any equipment enclosure is to provide a reasonably robust and secure structure intended for storage and protection of sensitive components or materials:
These components might otherwise be affected by dirt, dust and moisture, and therefore at risk of getting damaged when left exposed to the elements
Alternatively, they might be hazardous to the safety of people in the vicinity if not covered up, or vulnerable to unauthorised tampering and/or removal
Because of their primary protective and safety functions, boxes of this type are generally built sturdily to offer increased security for the equipment, tools or systems they enclose. It's very common for them to include an integrated locking system to enhance these credentials.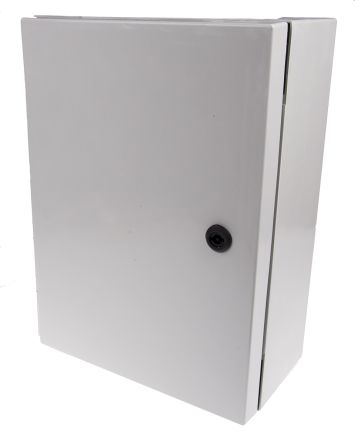 Wall-mounted enclosures, also frequently referred to as wall boxes, come in especially handy in situations where the available space for storage is too limited for floor-standing enclosures, or where the act of elevating the cabinet to a wall-mounted position is deemed to offer superior safety, security and environmental protections.
Certain types of enclosures are specifically designed for a particular product or component set (such as Arduino cases for Arduino boards, or Raspberry Pi cases), while general purpose enclosures offer more versatility in terms of potential applications. The latter will generally feature a simpler and more universal internal structure, with a much wider range of convenient uses.
Wall boxes are most often made of plastic, metal or PVC, and they normally feature one or two doors - these can often incorporate a transparent panel to reveal the enclosure contents, or be entirely solid for a more robust and tamper-proof overall construction.
The potential uses of wall boxes are more or less infinite, and there's a very diverse array of common applications - both domestic and industrial - in which wall-mounted enclosures are routinely used. They're extremely familiar items found in all manner of indoor and outdoor electrical systems, as well as in data centres and other networking environments.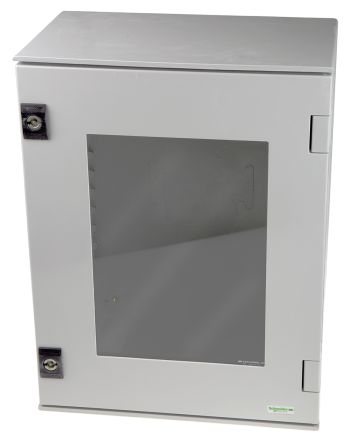 Wall boxes are very often used for:
Storing and protecting a wide range of electrical switches and terminal compartments
Rack-mounting computer components, including wall-mount data enclosures and wall-mounted cpu enclosures
Telecoms and networking centres, particularly where there's a requirement to provide patching or splicing nodes, but where large equipment racks and cabinets would be impractical from a floorspace perspective
Housing and securing industrial power and control systems
Weatherproofing and safeguarding security equipment
Providing IP protection for swimming pool and sauna systems
Other general tooling or hardware security requirements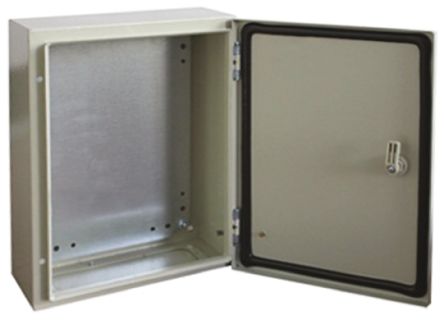 They can range in size from small push-button boxes to room-sized panels for enclosing entire systems, and the ideal wall-mounted enclosure for your needs will depend entirely on the precise role you need it to perform.
Please note that the term 'wall box' is also sometimes used casually to refer to electrical pattress, junction or back boxes:
These are the recessed containers usually found in the space behind common electrical fittings, such as power outlet sockets and light switches. They can be made from either metal or plastic, and are a common location for switch or socket components and wiring
The primary purpose of electrical pattress, junction or back boxes is to allow switches and sockets to be recessed into the wall for a cleaner appearance, and this type of 'wall box' should not be confused with the larger, surface-mounted secure equipment containers we're discussing in this guide
Types of wall boxes
---
As already noted in the introduction to this guide, you'll find a very wide variety of wall-mounted enclosure types for sale on the market. Collectively, these versatile and handy wall boxes are designed to cover pretty much any typical usage scenarios you might come across during day-to-day installation needs, whether domestic or industrial.
In this section, we'll look a little more closely at each of the most common wall-mounted enclosure types you're likely to find on sale from suppliers, and outline some potential use cases/pros and cons for each kind.
Weatherproof wall boxes
---
Weatherproof electrical enclosures are very often designed as wall-mounted boxes, intended for housing external or outdoor electrical circuitry, switches and other components.
The term 'weatherproof' is somewhat generic, of course - most often it will imply an IP rating, although it's important to check the manufacturer guidelines to confirm that this is indeed the case (and that the level of IP rating meets your requirements in terms of environmental hazards for the install location).
IP rated electrical enclosures - What are IP Ratings for enclosures?
---
True IP-rated electrical enclosures will always feature a specified IP (Ingress Protection) number rating, which is an international standard used as a guaranteed measure of the protection offered by a structure against the ingress of foreign bodies and moisture.
IP ratings consist of two digits - for example IP54, IP66 or IP67 - which together indicate the degree of protection on two progressive scales. The first digit indicates the effectiveness of isolation against intrusive bodies, whereas the second digit indicates protection against several varieties of moisture agents such as light sprays, condensation, or strong directional water jets.
Vented wall-mounted enclosures
---
Wall-mount enclosures are often vented - typically with a series of grilles or fluted cut-outs along the sides or in the door panels - to allow for better thermal management of the components and equipment secured inside. Many wall box houses are bought specifically to house components that generate significant amounts of heat, including:
A majority of electrical components that generate significant heat in normal use can also be damaged if temperatures are allowed to climb too high, and the compact nature of wall boxes - one of their great space-saving strengths - can also mean that temperatures climb rapidly if you aren't using a properly vented enclosure designed for the sorts of components it's housing.
If not properly controlled and vented, this heat build-up can have a detrimental effect on performance of many electrical components types - particularly where it might trigger safety tripping or emergency shutdown mechanisms - as well as causing damage or leading to greatly decreased life expectancy of equipment and parts.
The solution is to make sure you understand the thermal management requirements of any components you intend to house in a wall-mounted enclosure, and buy the correct sort of wall box for the job. Most vented wall boxes rely on natural convection cooling to lower temperatures inside the enclosure, meaning that heat is naturally transferred out of the box because the ambient temperature of the surrounding air outside is lower than inside.
This is often a suitable solution in any scenario where power draw and heat build-up is sufficiently low - but, in higher-temperature applications, vented wall boxes may need to be combined with mechanical (fan) or closed loop (liquid) cooling systems to achieve the proper operating temperatures for certain types of components.
Make sure you consult the manufacturer or supplier before buying if you're unsure of your specific cooling requirements and always be aware of any other environmental factors - such as nearby radiators, foundry equipment, high-temperature machinery, or exposure to solar heat - when choosing an installation spot.
Lockable electrical enclosures
---
The majority of wall boxes on today's market will tend to offer some form of locking function for added protection and security. There are a great many lockable wall-mounted enclosure types sold by a wide range of manufacturers and suppliers, with popular mechanisms including:
Single lock wall boxes
Cam locking enclosures
Double bar locking wall boxes
Padlocked wall-mount enclosures
Quick-release lockable wall boxes
When making a purchase, it's always important to assess the security requirements of the components and wall-mounting location in question, and use these factors to decide which type of locking system is most appropriate for your needs.
Wall box materials & their benefits
---
A wide variety of different materials are used in constructing rigid, robust and secure wall-mounted enclosures for many modern uses, both domestic and industrial.
Metal electrical enclosures

---

Metal enclosures for wall-mounting hardware and components are always a popular choice, particularly when it comes to enclosures for electronics. Common varieties include both sheet and carbon steel.

Aluminium is very often used for door panels (especially where the most robust physical resistance to tampering isn't a key requirement) to enhance ease of use and reduce the overall weight of the wall-mounted unit. Most metal electrical enclosures are available as wall-mounted boxes with a broad range of IP ratings, including IP65 and IP69K metal enclosures.



Stainless steel electrical enclosures

---

Stainless steel electrical enclosures are ideally suited to housing electrical components in especially hazardous/environmentally harsh settings and applications. Common varieties you'll find at suppliers include both 304 stainless steel wall boxes and 316 stainless steel wall boxes.

Plastic electrical enclosures

---

Wall-mount plastic enclosures are a highly popular choice for all manner of indoor and (especially) outdoor applications and environments. They're more lightweight than metal varieties, but can be very sturdy in construction, particularly when made from plastic materials such as ABS, thermoplastics or polycarbonate.

Again, plastic wall boxes are available across the full catalogue of universal IP ratings, with high external mechanical impact resistance and an excellent range of safe operating temperatures.
Popular wall box brands
---
There are a large number of companies today making various types of wall-mounted enclosures for international markets, and - as with any other type of electrical, security or storage equipment - it's important to know which ones have a reputation for reliability and performance before making your selection.
In no particular order, some of the brands we've had excellent customer feedback with are as follows:
| | | |
| --- | --- | --- |
| | | |
| Hoffman specialise in metal electrical enclosures, and Hoffman wall box products often boast additional features such as especially durable finishes, ergonomic styling, and various flanges and gaskets to enhance sealing against foreign bodies. | Schneider Electric wall boxes are particularly renowned for their robust fabrication, with certain steel models featuring one-piece folded and welded bodies with a double-plate thickness gutter-shaped front profile for extra rigidity. | Rittal wall boxes also specialise in steel and stainless steel construction, featuring strong unibody designs with powder coating for added corrosion protection. Some of their models offer reversible doors, allowing for mounting on either side of the enclosure. |
| Shop for Hoffman wall enclosures | Shop for Schneider wall enclosures | Shop for Rittal wall enclosures |
| | |
| --- | --- |
| | |
| Hammond offer a range of electrical wall-mount enclosures designed for use as instrument boxes, electric, hydraulic or pneumatic control housings, electrical junction boxes or terminal wiring enclosures. Many of the Hammond aluminium, steel or fibreglass wall boxes are IP66 rated, providing protection where nearby equipment may need to be hosed down or in very wet outdoor environments. | RS Components wall boxes are extremely cost-effective and offer great value for money while retaining all the key characteristics of a quality wall-mounted enclosure. Our popular RS Pro line features enclosures in ABS plastic, steel, and stainless steel, with IP ratings up to IP69K for robust sealing against almost all risk of moisture or dirt ingress. |
| Shop for Hammond wall enclosures | Shop for RS Pro wall enclosures |