A Complete Guide to Keypad Locks
Our keypad locks guide explains where they are used, their benefits, and how to find the best lock for your needs.
This guide aims to act as a brief introductory overview of keycode door locks. We will provide some clear and concise answers to common questions about various types available. FAQs we will cover include:
What keypad locks are, and whether they are safer than other types of door locking security systems

Where they are used, and how to install and use them

The benefits of a keyless lock vs. a normal lock and key system

How to choose and buy the best keypad locks for your needs
What is a Keypad Lock?
A keypad door lock, or keyless door lock, is a popular and widely used type of code lock. It requires the user to enter a numeric code, rather than using a separate key. Pressing the correct sequence of numbers releases a deadbolt, which automatically locks after the door closes.
Keyless door locks can be either electronic (digital keyless entry) or mechanical. The latter does not require any sort of external power whereas digital versions must be battery or mains powered. Both types of keycode locks are frequently found in the workplace and domestic settings, although they are more common in higher-traffic areas.
They are especially useful where multiple authorised users need continual access to restricted areas, but where doors must remain secured against unauthorised access at all times. For this reason, keyless locking is most closely associated with office, commercial and industrial environments. There are numerous advantages to using a keypad lock in these sorts of locations.
Are Keypad Locks Safe?
While standard locks and bolts are sufficient in many scenarios, keypad locks may be considered safer than many standard lock-and-key security systems in certain environments. Keyless entry is often preferred for workplace security, where multiple authorised users need frequent access to restricted or secure areas.
There are several reasons why a keypad code lock system can be more practical in these scenarios:
Authorised personnel do not need to carry personal keys. This removes the inherent risk of making and tracking multiple keys, especially for a secure area that several people need access to

Removing the need to carry a physical key means it cannot be stolen, copied, or otherwise end up in the possession of people who should not have it

Since there is no physical key to misplace or forget, it is less likely that authorised users will find themselves unable to gain entry through human error

They are often quicker and more convenient than keyed entry, especially if users will be carrying items through a doorway. This also applies if manipulation of a key may be difficult for any other reason, such as a physical disability.

It is far easier and cheaper to change keyless access codes for improved security than it is to change standard locks

Due to the added security benefits of keypad locks, you will always know exactly who can and cannot gain entry at any given time
Where are Keypad Locks Used?
Common examples of places and situations in which keypad code locks are used include:
Offices - keypad locks are an easy way of providing different levels or areas of access to different departments and employees

Schools - keyless locks can be easily updated with new access codes when previous students have left

Hospitals - when certain wards or theatres need to be secured against general entry to the public

Care Homes - particularly where carers or other staff are required to visit regularly
Keypad Lock Types
Mechanical Code Locks
A mechanical code lock is often cheaper than an electronic version, does not require any external power source to function, and has no ongoing running costs after installation. On the other hand, it may have certain limitations in terms of added functionality, features and durability.
A mechanical keypad lock typically only allows each button to be pressed once as part of a code sequence, so you cannot have repeating digits in an access code. You will often find that they are less flexible in terms of time-dependent options and will need to be set in an always locked or always unlocked state manually.
However, the fact that they do not rely on a power source to operate means that they will not underperform or fail due to interruptions in the electricity supply, or suffer problems relating to battery life. They are generally suitable for all install locations and environments (particularly where they might be exposed to moisture and debris), and usually require relatively little maintenance or additional protection from the elements.
Because they tend to have more internal moving parts than an equivalent digital code lock, they may be more prone to the effects of long-term wear in very heavy use.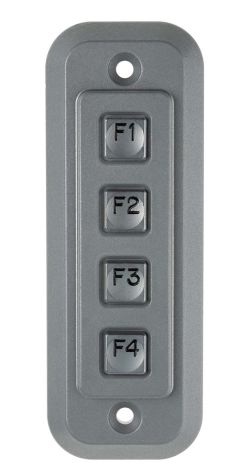 Electronic Keypad Locks
Electronic keyless door locks may be referred to as an electronic door entry system. They function much the same way as mechanical versions, but they require a constant power source to function as intended. This can either be from a battery pack, or through a wired-in mains supply.
While it is fairly common for battery-operated electronic locks to be used in smaller security systems or on peripheral or secondary entryways, it is generally advised to use a mains-powered unit for your main entrance (or where security needs to be tighter). Note that disabling the power supply to an electronic lock - whether battery or mains powered – will not open the door. Instead, the lock will remain closed until power is resupplied.
Digital keypad locks typically offer more advanced features and increased versatility compared to mechanical code locks. You can often set them to only require keycode entry at certain times of day or night, for example, or to accept various codes for different users.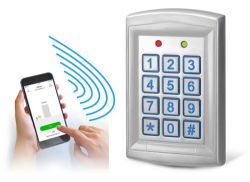 They will often be able to store multiple codes on a single unit, which can be activated at different times. Some advanced models may be able to respond to other input sources, such as wireless or Bluetooth code entry on a phone or similar device. They may also be able to limit the number of failed entry codes it is possible to attempt before needing to be reset.
They are usually IP rated (typically IP65 or higher for general weather resistance). Electronic keypad locks will often include some sort of screen or LED display, to convey additional information such as instructions and error codes. They may also incorporate audio tones to help clarify their function or active state for the user.
Even more advanced models include smart locks that can accept other types of user access, such as biometric fingerprint-reader locks for the home.
Panic Keypad Lock
Panic-type digital keypad locks are used to allow access to fire doors from the outside in case of an emergency.

Panic hardware like these locks is designed for quick and easy use without compromising on security. The keypad enables controlled access to buildings, rooms, or areas using a coded entry sequence.

Digital panic locks are often found in environments such as factories, schools, hospitals and healthcare facilities.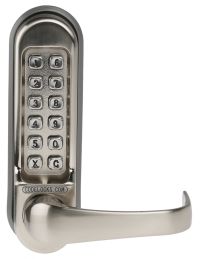 Shop Panic Keypad Locks
What are the Benefits of Keypad Locks?
We have already discussed how keyless entry locks can be more secure than standard systems in high-traffic areas, particularly when choosing something like a heavy-duty push-button lock for an office or factory door.
One of the main things to bear in mind when choosing to install digital keypad door locks is that, as with any good quality security system, the weak point from a would-be intruder's perspective is seldom the physical lock or any other hardware itself. In most cases, the biggest security risk is authorised user error. Keypad locks help to reduce this significantly, which is ultimately one of the most compelling reasons for choosing them.
Further benefits of keypad door locks include:
They are easier and quicker to fit than standard key locks

They do not require much in the way of additional tooling or hardware

Electronic keypad locks are more versatile than simple mechanical locks. They can be set to remain open at certain times or to lock automatically after each entry (time-determined locking and unlocking)

They can be mounted to all standard door hardware and existing lock fittings

They are equally suitable for indoor and outdoor entryways

They are long-lasting, and far less prone to the effects of general mechanical wear and tear over time
What Doors Can Keypad Locks Be Used On?
Keycode door locks can be used on almost any type of door, internal or external, provided it is already sufficiently solid and secure to make fitting a lock to it practical.
Popular searches among customers looking to buy keypad door locks online include:
Code locks for external doors

Combination gate locks

Keypad locks for wooden gates

Keyless garden lock

Keypad locks for front doors

Keypad lock for UPVC door
All of these are suitable uses for digital code locks in a domestic setting, and you will find many available products that fit these sorts of security requirements and install locations.
Which are the Best Keyless Door Locks?
Finding the best keyless door locks for your needs will depend on the specifics of your access requirements.
Assessing the ideal choice for any given entryway will depend on a variety of important factors, including:
How many people need access and how often

What times of day or night the door might need to remain open or secured

Who is going to be using the keypad lock, and how easy they will find it to use

What type of existing door fittings and hardware are present, and how they might impact your choice of keyless entry system
Other factors you will want to consider might be failsafe modes (fail safe or fail secure), the maximum number of doors a model can grant access to, the number of codes a given lock can store, and the material or look of various brands and designs.