Fluke Thermal Image Cameras and Thermography
Performance Series Thermal Imaging Cameras
Fluke Performance Series thermal image cameras are suitable for a wide range of maintenance applications for technicians and contractors. These thermal image cameras feature the latest in thermography innovation and are affordable and feature rich. They produce good quality images with easy operation for quick scans and/or intermittent inspections. Ideal for electrical, mechanical HVAC and building inspections.
With IR-Fusion® with AutoBlend™, Fluke Connect™, and SmartView® software.
Professional Series Thermal Imaging Cameras
Fluke Professional Series thermal image cameras give contract and in-house service thermographers a wide range of extra capability . The range gives high quality images and advanced focus features such as MultiSharp™ Focus and LaserSharp® Auto Focus. Operation is easy, with a one-handed touch screen interface, and data transfer and analysis is easy, too. Typical applications include industrial maintenance, commercial facility maintenance and reliability inspections.
With IR-Fusion® with AutoBlend™ Fluke Connect®, and SmartView® software.
Click here
to find out how LaserSharp® Auto Focus can help you prevent expensive downtime and make you more energy efficient.
Fluke 279 FC Thermal Multimeter
The 279 FC thermal multimeter is a full-featured digital multimeter with integrated thermal imaging, designed to increase your productivity and confidence. The thermal multimeter helps you find, repair, validate, and report many electrical issues quickly, improving your ability to solve problems.
Fluke VT04 Visual Thermometer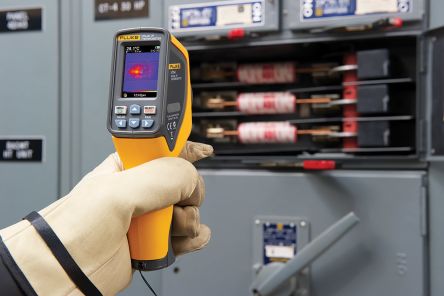 Compact and intuitive, the VT04A and VT04 Visual IR Thermometers blend a visual image with a heat map overlay, to help quickly identify the location of issues.
Capture accurate temperature readings without taking your eyes off the screen. The center measurement box shows the exact area of temperature measurement. Fill the center box with your target and rest assured you're not measuring the background.
Fluke Thermal Imaging on DesignSpark